Orthopaedic reconstruction products for Hips

Overview
The LEGION Total Knee System is a comprehensive system designed to allow you, the surgeon to address straightforward primary to complex revision knee arthroplasty. By virtue of its unique implant design features, proprietary materials and intuitive instrumentation, LEGION empowers you to manage diverse surgical challenges and provide personalised joint care with one system, one company.
The LEGION family offers a variety of options for both primary and revision total knee replacements. LEGION implants are available with VERILAST Technology, the combination of OXINIUM and XLPE. Addtionally, some of the LEGION prostheses are available for use with our VISIONAIRE, patient matched cutting blocks for knee surgery.
Endurance
A Legacy of Clinical Success
There are many factors that ultimately influence implant endurance. Smith & Nephew has been at the forefront of innovation in the area of endurance, as demonstrated through a legacy of success.
The design of the LEGION Total Knee System was inspired by the GENESIS II Total Knee System, which has a longstanding record of clinical success. For more than 10 years and in more than 30 countries, the GENESIS II Total Knee System has achieved outstanding clinical outcomes. 1,2,3
Richard S. Laskin
100 consecutive
Minimum 5 years

Mark A. Snyder
562 consecutive
5-8 years

Robert B. Bourne
843 consecutive
Mean 9.5 years (5-11)

ROM

118° mean

118.6° mean

117° mean

Lateral Release Rate

3%

2.5%

4%

Knee Score

93

93.4

n/a

Survivorship

98.2%

98.9%

98%
Wear Reduction
Smith & Nephew has a longstanding reputation for providing surgeons with technologies designed to maximise implant wear resistance. That reputation was built through market leading innovations such as our highly polished tibial baseplates, tibial locking mechanism and the award-winning OXINIUM Oxidized Zirconium. That history of innovation continues with the introduction of the VERILAST Technology.
In lab testing, Smith & Nephew demonstrated that the composition of the mating component has a significant influence in the wear resistance of the entire bearing couple (see VERILAST chart 1 below).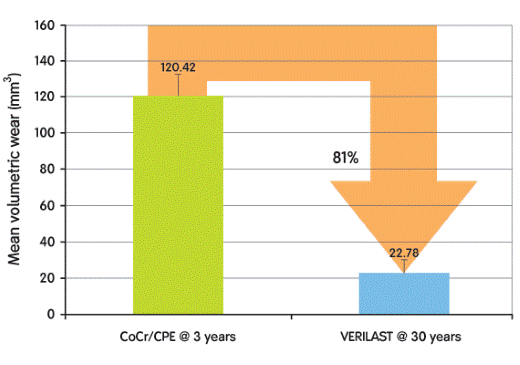 After simulating 3 years of use, the mean volumetric wear of VERILAST couples (2.67 mm3) was approximatley 98% lower than CoCr/CPE couples (120.42mm3).
After simulating 3 years of use, the mean volumetric wear of VERILAST couples (120.42 mm3) was approximatley 81% lower than CoCr/CPE couples (22.78mm3).
Our testing shows that the wear of polyethylene combined with Cobalt Chrome increases under the clinically relevant, abrasive conditions. However, when combined with OXINIUM Oxidized Zirconium, wear resistance is maximized. This result is attributed to the scratch resistance that OXINIUM provides.

Therefore, VERILAST Technology, the combination of OXINIUM Oxidized Zirconium and highly cross-linked polyethylene produces a knee implant system that addresses the need for greater wear resistance. All orthopaedic manufacturers have highly cross-linked polyethylene. Only Smith & Nephew has VERILAST Technology.
Engineered for life
Clinical References
1. Laskin, Richard S., Davis, John, "Total Knee Prosthesis using the GENESIS II Prosthesis: a 5-year follow-up study of the first 100 consecutive patients", The Knee 12 2005, pp.163-167.
2. Snyder, Mark, "GENESIS II Total Knee Arthroplasty: 5 to 8 year results", Smith & Nephew, Inc, 2006
3. Bourne, Robert B., McCalden, Richard W, MacDonald, Steven J, Mokete, Lipalo, Guerin, Jeff, "Influence of Patient Factors on TKA Outcomes at 5 to 11 Years Followup.", Clinical Orthopaedics & Related Research, November 2007, 464:27-31
4. 2005 Engineering Materials Achievement Award, American Society for Metals, 2005.
Versatility
Move seamlessly from Primary to Revision and beyond
The LEGION Total Knee System empowers you to address diverse surgical challenges with one A-P Resection, one system and one company such as:
Rheumatoid arthritis
Post-traumatic arthritis
Osteoarthritis
Degenerative arthritis in older patients whose age, weight and activity level are compatible with an adequate long-term result
Failed osteotomies
Unicompartmental replacement or total knee replacement
Patients in primary and revision surgery, where the anterior and posterior cruciate ligaments are incompetent and the collateral ligaments remain intact.
Patients in primary and revision surgery, where the posterior cruciate ligament and one or both of the collateral ligaments (i.e. medical collateral and/or lateral collateral ligament) are absent or incompetent.
Femoral Components - Cruciate Retaining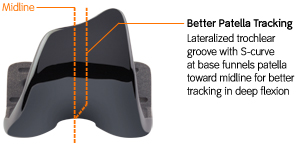 Femoral Components - Posterior Stabilised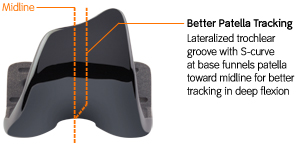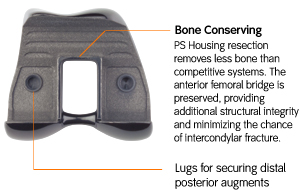 All LEGION Femoral Components share the following features:
OXINIUM material and CoCr options
Anatomic design
Lateralised trochlear groove
Common A-P Resection
Femoral Components - Constrained
The LEGION Revision Knees offer a larger selection of components, offsets, augments and stems.

Minimised Bone Resection

The LEGION constrained femoral components were designed with varying anterior chamfer angles to minimise bone resection and maximise the deepened patellar groove. The cam on the constrained femoral component has been positioned closer to the distal surface and more posteriorly resulting in a smaller box requiring less bone removal.

Stronger, Shorter Female Taper

Designed and sized to provide increased strength, the new female taper allows for a larger selection of stem sizes. The new taper has a shorter post compared to the GENESIS II Total Knee System which allows surgeons a better metaphyseal offset fit. The taper also includes a secondary locking mechanism for postoperative security.

Proper Kinematics

The deepened and extended trochlear groove of the LEGION constrained femoral component is the same lateralised design as the LEGION CR and PS - which allows for added patellofemoral contact area and greater subluxation resistance.

Posterior condyles are tightly radiused to maximise flexion.
Tibial Baseplates
Because your patients come in different sizes, symmetrical shape provides better tibial coverage; medalised stem aligns with the center of the canal
Proven locking mechanism with anterior and posterior dovetail
Highly polished baseplate to reduce backside wear
Femoral and Tibial Components - Augments, Stems, and Couplers

Screw-on Femoral Augments
Distal femoral wedges: 5, 10, and 15mm
Posterior femoral wedges: 5 and 10mm
L-wedge combinations: 5x5, 10x5,15x5,5x10, 10x10, 15x10mm
Composed of Ti-6Al-4V
All offset couplers/stems can be used on any femoral/tibial component
Patella
Resurfacing components may be prepared with standard or large reaming instrumentation or resection guides
Biconvex component prepared with reaming instrumentation
Ease
Having access to a breadth of capabilities with ease. The ability to do more of what matters. That is the essence of this system.
Today's knee implant patients present increasingly diverse scenarios. As a surgeon, you are only certain of your patient's true clinical condition when surgery is underway and all the factors are visible. You have to make decisions fast and you want to get it right the first time.
Customise Endurance

Personalise with Versatility

Optimise procedures with ease

That is "Power of Simplicity"
Versatile, Simple instrumentation
The LEGION Total Knee System includes versatile, simple instrumentation, comprehensive in function and fewer in number. The instrumentation reduces surgical time and simplifies decision-making during the intra-operative procedure. As a result, you are able to achieve excellent alignment and effectively restore joint line position, giving your patients joint care. 1

No other knee system offers a broader range of instrumentation options:
Anterior Cut First and Distal Cut First Femoral Instrumentation
One A-P Resection
Extra and Intramedullary Tibial Instrumentation
Familiar approach and soft-tissue friendly instrumentation for MIS surgery
Easy, one-step conversion from Cruciate Retaining to Posterior Stabilised

Clinical References
1. Nadaud, M, Snyder, M, Brown, D, McPherron, A, "New Trends and Early Clinical Outcomes With a Modern Knee Revision System", Innovations in the treatment of the arthritic knee - ORTHO supplement, Aug. 2007, pp. 97-101.
Revision
The LEGION Revision Knee System has been designed to offer you, the orthopaedic surgeon improved options to deal with the complexities associated with revision knee arthroplasty, while providing them in a manner that is relatively simple to execute. The instrumentation has been developed to be an easy-to-use system that will allows you to obtain accurate and reproducible results while improving the ease with which you can manage bone mass, restore limb alignment and improve knee function. Failed total knee arthroplasty due to aseptic loosening, osteolysis, instability, malalignment or infection can be reconstructed using the LEGION Revision Knee System.
Key elements in revision knee arthroplasty include:
restoration of proper limb alignment
achievement of proper prosthetic component position
restoration of knee biomechanics
balanced medial/lateral and flexion/extension gaps.
The achievement of these goals will lead to proper patellofemoral mechanics, functional range of motion and optimised patient satisfaction.