Orthopaedic reconstruction products for Hips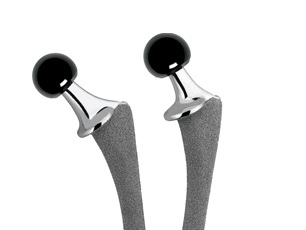 Product Information
ECHELON revision hip implants are part of a family of femoral stems that address both Primary and Revision indications. With one set of instruments, a variety of stems can be implanted.
ECHELON Revision is designed with the goal of providing long-term, pain-free restoration of joint function and normal hip biomechanics.
Clinical Goals:
Fixatios
Range of Motion
Versatility
Simplicity
Features and Benefits
The system is composed of cementless and cemented implants with lengths ranging from 190–300 mm, and sizes from 11–22 mm.
Cobalt Chrome which allows for extensive porous coating of the stem
RoughCoat Coating- sintered bead porous coating allows for scratch fit and stresses the bone for bone in-growth
Hydroxyapatite - A 50 micron layer of hydroxyapatite is applied to the fully porous coated stem.
Shoulder Relief - ECHELON Revision Hip System has a rounded shoulder, which eases insertion or extraction and reduces the risk of fracture of the greater trochanter
Coronal Slot - The slot reduces overall stem stiffness, which can mean less stress shielding, less thigh pain and less chance of fracturing the femur upon insertion
Distal Bullet Tip - The polished distal bullet tip is a smooth transition from the cylindrical portion of the stem which reduces the possibility of impingement or bone on-growth. Both impingement and bone on-growth are associated with thigh pain
Surgical Simplicity - A simple hip system makes surgery go smoother, saves OR time and therefore reduces costs for the surgeon and hospital. Only three instrument trays are needed
Clinical Evidence
Download ECHELON Revision Case Studies (link)
Female, Age 74, Aseptic loosening of femoral prosthesis
Male Age 69, Failed cemented total hip
Female Age 46, Loose painful stem, no bone ingrowth upon retrieval
Male Age 78, THA following post-traumatic AVN in 1975, Socket revised with high hip center in 1991, broken acetabular screw, massive acetabular osteolysis
Male Age 53, Failed cemented broken hip, hip nearly ankylosed, and loss of calcar to osteolysis
Male, Age 44, Implant ingrown but severe thigh pain
References
7138-0790: Stem Design and Dislocation After Revision Total Hip Arthroplasty – Barrack, et, al.
Fractures of distally-fixed femoral stems after revision arthroplasty – Busch, et al.
The Role of Proximal Femoral Support in Stress Development within Hip Prostheses – Crowninshield, et al.
Revision hip arthroplasty using an extensively porous coated stem: medium term results- Jayakumar, et al.
Clinical Evidence
Fixation
HA on Porous Coating
The ECHELON Porous Plus HA prosthesis is a fully porous coated stem. Subsequently, a 50 micron hydroxyapatite layer is then applied onto the porous surface.
Range of Motion
Circulotrapezoidal Neck
Provides maximum ROM with minimal impingement, thereby reducing the risk of dislocation and wear. Neck length is increased for restoration of offset.
Optimum Taper Design
The 12/14 taper is optimized to avoid impingement on the cup and maximize ROM.
Versatility
Addressing Proximal Defects
Stems are available with standard collar and 15 mm calcar platforms.
Progressive Offset and Sizing
Stem sizes range from 11 mm – 20 mm in 1 mm increments for improved canal fill and fixation. Femoral component offset progressively increases with increasing implant size. Offset ranges from 38 mm – 62 mm depending on the femoral head size chosen.
Simplicity
Simple Instrumentation and Technique
Instrumentation enhances a straightforward surgical technique, which optimizes OR efficiency and reproducible results.
Insertion Simplicity
The stem inserter threads into the implant to provide rotational control. A distally slotted, fluted stem generates lower bone strains during insertion than a solid fully coated stem of the same geometry.1


Download ECHELON Revision Design Rationale

References
1. Suzuki, Yoshihiro, M.D., Renowitzky, Glen, B.S., Lotz, Jeff, Ph.D., Barrack, Robert L., M.D.,Bourne, Robert B., M.D., Rorabeck, Cecil H., M.D., and Ries, Michael D., M.D., Effect of Cementless Femoral Stem Design on Bone Strains and Torsional Stability.
Indications
Hip components are indicated for individuals undergoing primary and revision surgery where other treatments or devices have failed in rehabilitating hips damaged as a result of trauma or noninflammatory degenerative joint disease (NIDJD) or any of its composite diagnoses of:
Osteoarthritis
Avascular necrosis
Traumatic arthritis
Slipped capital epiphysis
Fused hip
Fracture of the pelvis and diastrophic variant.
Hip components are also indicated for inflammatory degenerative joint disease including:
Rheumatoid arthritis
Arthritis secondary to a variety of diseases and anomalies, and congenital dysplasia
Treatments of nonunion, femoral neck fracture and trochanteric fractures of the proximal femur with head involvement that are unmanageable using other techniques
Endoprosthesis, femoral osteotomy, or Girdlestone resection
Fracture-dislocation of the hip
Correction of deformity